Welcome to the Hottest Place on Earth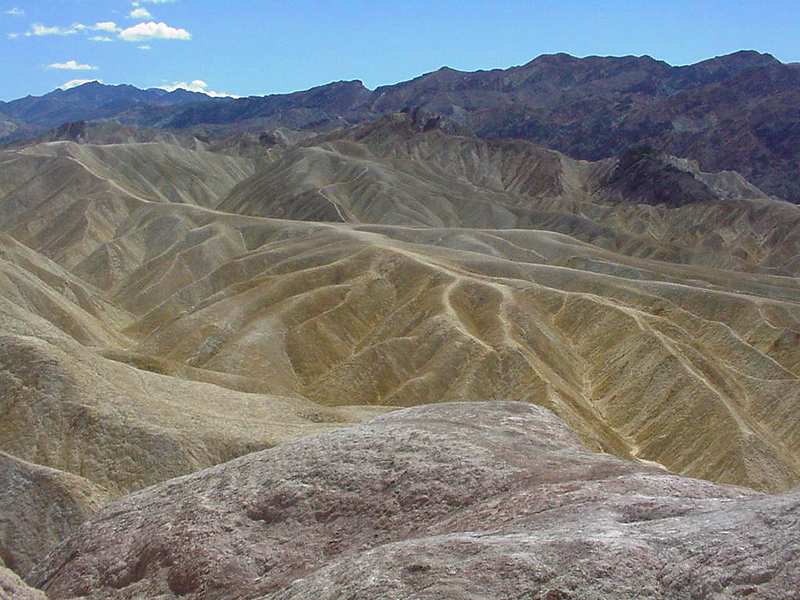 Death Valley - Photo courtesy of Jon Sullivan
Three-Way Tie

California and Nevada's Death Valley, located in the Mojave Desert, is the official winner with a record-breaking high of 134 degrees Fahrenheit recorded there on July 10, 1913. Located in a below-sea level basin, Death Valley is not only the hottest place on earth, it is the driest and the lowest place in the United States. Remarkably, it is nonetheless home to over fifty-one species of mammals, including coyotes, mountain lions, burros, bobcats, sheep and foxes; over three-hundred species of birds; and thirty-six species of reptiles. Death Valley's longest summer ever took place in 2001 when the temperatures climbed into the triple digits for one-hundred-and-sixty consecutive days.

Prospectors seeking their fortune cross Death Valley in a wagon drawn by twenty mules.

Al' Aziziyah, a small town in northwestern Libya is believed to be even hotter than Death Valley with National Geographic having recorded a reading of 136 degrees Fahrenheit there on July 13, 1922. However that reading was never officially recognized.

Al' Aziziyah - Image courtesy of Aptech Qatar

Not to be outdone, if you live in Texas, the summer temperature in your attic has likely matched that of Death Valley and Al' Aziziyah. An unventilated attic in the Texas can reach a temperature of 140 degrees in the middle of summer. If an air conditioning technician pays a visit to your attic, he may come down every so often to chug-a-lug the cold water he carries in his van. He's not shirking his work, just trying to avoid heat stroke. And his uniform, fresh and pressed in the morning, may have wilted by noon. But he'll do what he can to keep you and your family cool.

As you may have figured out, the heat that builds up in your attic is transferred through your ceiilng into your living quarters. This makes your air conditioner work harder and your electric bills soar higher. To improve the efficiency of your cooling system, consider ventilating your attic. A power attic ventilator (attic fan) can lower your attic's temperature by as much as 30 degrees during the summer by drawing fresh air in and forcing hot air out. Power attic ventilators can be purchased at most large hardware stores. You will likely need a roofer to install the hardware and an electrician to hook it up. In most cases, the savings you see on your summer utility bills will more than make up for the initial expense and your air conditioning equipment may last longer as it will not have to work as hard to cool down your home.