Iceland - An Entire Country in Hot Water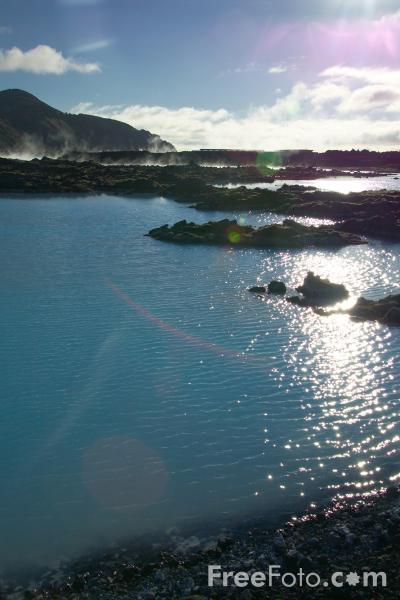 The Blue Lagoon
Photo courtesy of freefoto.com
The Woodlands, Texas Two Most Brutal Foes: Heat and Humidity
Here in The Woodlands, Texas, electric bills rival the national debt during the summer when our central air conditioning systems defend us against our two most brutal enemies: heat and humidity. Meanwhile, our countrymen to the north are throwing open their windows and welcoming in balmy summer breezes.
Come fall, the tables turn faster than you can say Autumn Equinox. During the winter our heaters, here in The Woodlands, kick on about as often as a teenage boy cleans his room. Some locals shut off their heaters all together in favor of flannel pajamas or down-filled comforters. Meanwhile, people up north weep over incoming utility bills with balances higher than post-Christmas credit card statements.
Tired of spending more on utilities than you spend on groceries? Consider a move to Iceland where geothermal steam provides an inexpensive and nearly endless source of heat.
How People Heat Their Homes in Iceland
How do you heat homes in one of the northernmost countries on earth, a subpolar country aptly named Iceland? You drill nine-hundred feet underground, capture the geothermal steam known to reach temperatures up to 3,632 degrees Fahrenheit, and plumb it to towns throughout the country. The geothermal steam is used to heat the water which, in turn, is used for heating eighty-nine percent of Iceland's homes. Due to its high salt content from the nearby sea, the geothermal steam itself cannot be pumped directly into central heating systems.
While Iceland's geothermal steam is one of the cleanest fuels on earth, when it rises out of the hot water plants it eerily resembles a nuclear power plant meltdown.
The same geothermal steam is also used to heat most of Iceland's hot water. Not only that, the speed and the power achieved by this steam when it's released from underground generates cheap, plentiful electricity throughout the country.
The Blue Lagoon - A Tale of Two Continents
Most community pools in The Woodlands, Texas are open from Memorial Day Weekend through Labor Day. Meanwhile Icelanders indulge year round in the naturally warmed waters of the Blue Lagoon. Pictured above, the Blue Lagoon is located forty minutes from Reykjavik, Iceland's capitol. Where does the Blue Lagoon come from? A hydroelectric power plant pumps geothermal seawater from two kilometers below the surface to generate electricity. The runoff from this plant pools in the middle of a lava field where it forms the Blue Lagoon. Averaging ninety-five to one-hundred-and-five degrees Fahrenheit year round, this mineral rich pool is a popular tourist attaction. Its proven therapeutic benefits include positive effects on eczema and psoriasis.
When people take a dip in the Blue Lagoon, they are actually bathing between two continents, where the Eurasian and North American tectonic plates meet.
Energy Saving Tips
Not planning to move to Iceland any time soon? Click here for some Energy Savings Tips